Champaign Man Charges as Armed Habitual Criminal After Police Find Drugs, Guns in His Home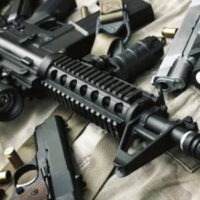 A Champaign man has been charged as an armed habitual criminal after police raided his residence and found a loaded gun and a large amount of prescription painkillers. The defendant was arrested by members of the Champaign County Street Crimes Task Force. He was arraigned on charges of being an armed habitual criminal and unlawful use of a weapon by a felon. Police were allegedly aware that the defendant was selling methamphetamine from his home. They also found a .380 caliber handgun at the residence.
Illinois has some of the toughest weapons charges sentences in the nation. Being an armed habitual criminal is considered a class-X felony under Illinois law. Class-X felonies are the most serious crimes that you can face short of first-degree murder. In this article, we'll discuss the Class-X felony of being an armed habitual criminal.
The armed habitual criminal law 
720 ILCS 5/24-1.7 outlines the offense of being an armed habitual criminal. It is considered a weapons charge. The law applies to anyone who has at least two prior convictions for certain types of offenses and possesses a firearm. A prosecutor can charge you with this type of firearm offense if you have been convicted of two or more of any of the following criminal offenses:
Aggravated battery involving the use of a firearm
Aggravated child battery
Aggravated discharge of a firearm
Carjacking
Intimidation
Home invasion
Unlawful use of a weapon by a convicted felon
Violations of the Illinois Controlled Substance Act or Cannabis Control Act that qualify as a class-3 felony
Those who have been convicted of any of these offenses face class-X felonies under the Illinois law. This includes a mandatory minimum sentence of six years and a maximum sentence of 30 years. Those with two prior class-X felonies can even face a potential life sentence without eligibility for parole.
Defenses to being an armed habitual criminal
The most common defense to being an armed habitual criminal is that the gun did not belong to the defendant. In this case, the gun was found in the defendant's apartment and the law assumes that the gun belongs to the defendant. The defendant may be able to argue that the gun belonged to a roommate if he had one. However, possession, as they say, is 9/10ths of the law. In this case, the defendant is being charged with possession of the gun. If convicted, he could face a statutory minimum of 6 years behind bars and a maximum of 30 years. He can also face charges related to the possession of methamphetamine and prescription painkillers which he was allegedly dealing out of his residence.
Talk to a Champaign, IL Weapons Charges Attorney Today 
Patel Law, PC represents the interests of those facing weapons charges in Champaign, IL. If you are facing charges for being a felon in possession of a weapon or being an armed habitual criminal, call us immediately. Our Champaign criminal lawyers can help.
Source:
news-gazette.com/news/local/courts-police-fire/champaign-man-charged-as-armed-habitual-criminal-after-gun-drugs-found-in-home/article_36bc98c7-9417-5e23-bdbf-cc42305f90cf.html