Illinois Personal Injury & Criminal Defense Lawyer
Serving Champaign, Urbana, Danville and Decatur & More
If you've been injured by the negligence of another, or if you've been arrested and charged with a crime, then you are in a situation where it is critical to get the help of an experienced legal professional. Whether attempting to hold others accountable for the harm they've inflicted on you and recover compensation for the damages you've incurred, or if you are trying desperately to defend yourself against criminal charges and stay out of jail, an Illinois personal injury & criminal defense lawyer at Patel Law, PC is here for you with the advice and representation you need to achieve your goals. In Champaign County and central Illinois, Patel Law is the right law firm for you.
The Experience You Need to Defend Your Rights
Patel Law's founding attorney Baku Patel has been practicing law in central Illinois for nearly 30 years and is highly experienced in both personal injury and criminal defense. Mr. Patel began his legal career in the United States Navy as an officer in the Navy Judge Advocate General Corps, where he served as both a JAG Corps prosecutor and defense attorney. Mr. Patel then served stints as a criminal prosecutor for the United States and Illinois governments, first as a federal prosecutor and trial attorney with the Federal Trade Commission and then as a senior prosecutor in the State's Attorney's office in both Champaign and Vermillion counties. Turning to criminal defense, Mr. Patel served as the Chief Public Defender of Vermilion County, where he was certified by the state as lead defense counsel in death penalty cases. Mr. Patel brings this wealth of experience to his private civil and criminal defense practice at Patel Law, PC. No stranger to the courtroom, Mr. Patel and his team are ready to serve your needs and help you reach your goals inside and outside of court, whichever serves you best.
One of the Most Experienced Criminal Defense Lawyers You'll Find
Patel Law attorney Baku Patel defends people charged with Illinois misdemeanor and felony offenses, from shoplifting and DUI to murder. Mr. Patel has extensive experience in the field of federal criminal law as well, including federal charges involving drugs, guns, and various forms of fraud. Having taken over 150 trials to verdict, Mr. Patel is one of the most experienced criminal law attorneys you will find in central Illinois. As a person accused of a crime, you could be facing the loss of your liberty, shockingly expensive fines, restrictions on your freedom, and damage to your reputation that can adversely affect where you live, where you work, and your standing in the community. Any criminal charge should be taken seriously. Before you talk to the police or prosecutors, before you call a family member or bail bond company, call Patel Law, PC for essential advice and to put yourself in a position for the best outcome in your case.
A Personal Injury Attorney With a Record of Success You Can Count on
Patel Law, PC has recovered tens of millions of dollars in compensation for accident and injury victims in central Illinois. Our trial skills and experience make us a formidable force in the courtroom, which also enables us to settle cases for maximum compensation without going to trial. Our personal injury and wrongful death law practice covers a range of civil negligence claims from auto and truck accidents to dog bites and nursing home abuse. While you focus on recovering your health and getting your life back in order, we are busy proving the other party's negligence and their liability to you for the full amount of legal damages you have suffered. Insurance companies want to settle cheaply or wriggle out of liability by disputing the injury or shifting the blame for the accident. We know the law and have a record of success in holding negligent actors and their insurers liable for the losses and harm inflicted on innocent people.
Patel Law Is Here to Help
With offices in Urbana, Decatur and Danville, Patel Law, PC serves clients throughout central Illinois, including all of Champaign, Vermilion and Macon counties. Call us for a free consultation to discuss your legal needs so you can receive advice that you can use and immediate assistance protecting your rights and getting the best result possible. You might be facing the most difficult situation in your life, which is why you need a skilled and experienced Champaign personal injury & criminal lawyer who is on your side and dedicated to helping you reach your goals. Call Patel Law, PC today.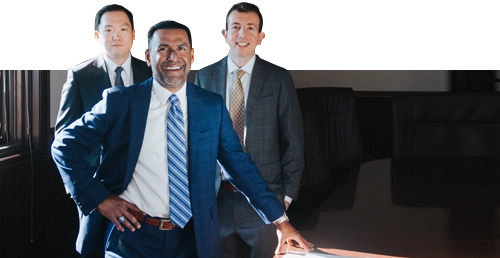 When you are facing legal challenges that affect your rights, you need the most experienced attorney you can find. We try cases and get results.