What Happens If A Negligent Driver Does Not Have Auto Insurance?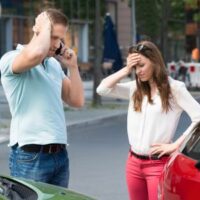 Illinois law requires all drivers to carry a minimum amount of auto insurance. This includes liability coverage in the event the driver causes an accident that injured other people. The current minimum insurance requirements are no less than $25,000 for bodily injury or death to one person, $50,000 for bodily injury or death to two or more people in the same accident, and $20,000 for property damage.
So if you are injured in a car or truck accident and you know the other driver is at-fault, you might expect their insurance company to pay for your damages without question. Of course, things are not always that simple. For one thing, even if the negligent driver thought they had insurance, the insurance company might take a different view of things and disclaim coverage, which can leave you as the accident victim in a precarious spot.
Driver Lose Insurance Coverage Due to Agent Mistake
A recent Illinois appeals court decision, Shelter Mutual Insurance Company v. Flynn, offers a cautionary tale in this regard. This case began with a rear-end accident involving two drivers with the last names of Flynn and Herskovitz, respectively. Both cars were damaged in the accident. Herskovitz later filed a personal injury lawsuit against Flynn, alleging she was responsible for causing the accident.
Flynn thought her vehicle was insured by Shelter Mutual Insurance Company. Flynn purchased the accident vehicle, a Honda Civic, in 2016. After buying the car she texted her insurance agent and requested coverage for the Civic. The agent obtained a one-year policy for the Civic. But after just five days, Flynn traded-in the Civic for another Honda Civic. Flynn texted her agent again to inform her of the vehicle swap, but for some reason the agent never noted the change. So the policy continued to renew on the original Civic, which was no longer in Flynn's possession.
Even though Shelter Mutual continued to accept Flynn's premium payments, it refused to cover the accident because, as far as it was concerned, she was not driving the Civic listed on the policy. Litigation ensued between Flynn and Shelter Mutual on this issue.
To make a long story short, an Illinois circuit court judge ultimately held that Shelter Mutual was in the right. The insurance company had no duty to indemnify or defend Flynn against Herskovitz's personal injury claim; she was not driving an insured vehicle at the time of the accident. The Illinois First District Appellate Court agreed, noting that even though it was the agent's mistake, Shelter Mutual had no way of knowing that Flynn had traded in her vehicle until after she filed a claim following the accident with Herskovitz. As such, the insurer was not responsible for the accident.
Contact Illinois Car Accident Attorney Baku N. Patel Today
Even in cases where a negligent defendant lacks insurance to cover an accident they caused, the victim may still be able to seek compensation under their own policy if they have uninsured/underinsured (UM/UIM) motorist coverage. A skilled Champaign auto accident lawyer can further advise you of your rights in this area. So if you have been in a car accident, contact Patel Law, PC, today to schedule a free case evaluation.
Source:
scholar.google.com/scholar_case?case=13614374065847343077